The Shadow Government: Guidance to President Obama and the Nation Pt. 3

-SERIES FINALE- 'The time and what must be done'—Lecture Series, part 58
[Editor's note: The following article contains a distillation of the message delivered by the Honorable Minister Louis Farrakhan as Part 58: The Series Finale of the Lecture Series "The Time and What Must Be Done." This message originally aired on Saturday, February 15, 2014, and is now available in its entirety on DVD, CD and MP3. Please call 1.866.602.1230, ext. 200, or visit store.finalcall.com to order.]
In The Name of Allah, The Beneficent, The Merciful.
Greetings to you. I am Minister Louis Farrakhan, National Representative of the Honorable Elijah Muhammad, that Great Preacher of Freedom, Justice and Equality to the Black man and woman of America and the Western Hemisphere, and to the Aboriginal People of the Earth—the Eternal Leader of The Nation of Islam, and a Warner to the government and people of the United States of America, and a Warner to the nations of the Earth.
In Part 57, we continued our discussion on this "Shadow Government" by featuring the "dying declaration" of an anonymous former CIA agent who attested to a cover-up by the United States government surrounding the existence of Wheels ("UFOs") in "Roswell, New Mexico/Area 51." I stated to you that if, in fact, you have any Wheel: It is a gift from The Beneficent God to show you more conclusively that He is Present, and what you, America, could achieve if you submitted!
And we concluded last week's message by providing youevidence of these Wheels through the video footage and translated words of a Tercer Mileño investigative report on1,500 Wheels sighted in Mexico.
*********
President Obama: Let's open up Roswell! Summon the scientists from all over the world to America under your auspices, and you go with them—along with presidentsCarter, Clinton, and with President Bush "41" and Bush "43," and look at what Allah sent to you, and study it!
And if you think there can be a better world from the knowledge that Allah (God) introduced for us to use—why, that was like a man coming to you, giving you his card, and giving you his address and telephone number, saying, "If you'd like to reach me, just call me." Well, Allah (God) says: "I am sending you a Wheel—a few of them—as 'My Calling Card'."
Study the Book of Exodus, Chapter 3. When the scripture teaches (in verse 14), "I Am That I Am":
The first "I Am" means that "I Am Present" (I Am in the Present Tense).
The second "I Am" means "I Exist" (I Am the answer to the verb to be).
Allah (God) says, "I Am: I'm not only in existence, but now I Am Present, and I Am in Power"; He says, "I Am That I Am, and I have power over all things. So tell them, Farrakhan—tell them that is Who sent you."
An understanding of 'The Mission of God's Messenger' as taught in Ezekiel (Chaps. 1-3)
The Honorable Elijah Muhammad writes in the September 21, 1973 edition of Muhammad Speaks newspaper (Vol. 13, No. 2): "We continue, from last week, the analysis of Ezekiel's WHEEL. In Ezekiel, Chap. 1:25, the prophet Ezekiel described winged creatures that he saw. Do not be foolish enough to think that these creatures that Ezekiel describes and which he refers to as 'living creatures', have feathery wings. They did not have feathery wings that they let down. In this vision of THE WHEEL, or plane, [this plane] is built so unlike the other planes that we could call it a mystery WHEEL to what we had heretofore known! Ezekiel, Chap. 1:26, 'And above the firmament that was over their heads was a likeness of a throne, as the appearance of a sapphire stone: and upon the likeness of the throne was the likeness as the appearance of a man upon it.'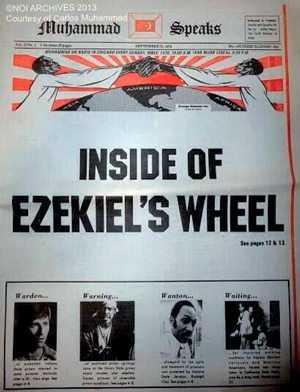 In Ezekiel's vision, 'the voice that he heard coming from the firmament that was over their head' this really is referring to the future of the work of the Plane's Master. The voice is the voice of the Master of the Plane. And the voice is described as being above the Plane. If the voice is heard above the Plane then what was the voice, in or on? Was this voice on another plane or on another Wheel? In verse 26 (Ezekiel Chap. 1:26, Bible) Ezekiel describes seeing something above THE WHEEL, (plane) in his vision—something, a throne, as having the appearance of a sapphire stone. And upon this stone that was the likeness of a throne, was the likeness the appearance of a man above it. Ezekiel, Chap. 1:27, 'And I saw the color of amber as the appearance of fire round about within it, from the appearance of his lions even upward, and from the appearance of his lions even downward, I saw as it were the appearance of fire, and It had brightness round about it.' Ezekiel, Chap. 1:28, 'As the appearance of the bow (rainbow) that is in the cloud in the day of rain…' As Ezekiel says, with the appearance of a man with all of this science on him and the dividing of him an upper and a lower part of him, he said, 'It was as it were the appearance of fire…' from the first description of THE WHEEL. It teaches the reader that THE WHEEL is designed for war purposes. THE WHEEL is one of the most mysterious WHEELS that the world has ever dreamed of in the way of military science. I say military science, [for] this is exactly what THE WHEEL is. It is a WHEEL that is made to do military work. By what Ezekiel said now, about the appearance of it, there is no doubt about the interpretation of this WHEEL, that it is military-built, for war purposes, and that THE WHEEL is guided especially by the desire of God Almighty. As we continue to analyze verse 28, Ezekiel describes the frightfulness of The WHEEL as the appearance of '… THE LIKENESS OF THE GLORY OF THE LORD.'"
The Honorable Elijah Muhammad then refers to Ezekiel, Chapter 2 regarding "God's Protection of His Missioned Prophet (The Son of Man)" in being sent to warn "The Children of The House of Israel": "This brings us into Divine Spirit of God in the making of THE WHEEL. So much proves THE WHEEL to be Divine work that Ezekiel, in the 28th verse [Chapter 1], said that when he saw it, he fell upon his face. But, Ezekiel said that he heard a voice of one that spake. NOTE how Ezekiel gives this to us, 'One that spake.' What one that speaks? We all speak! Ezekiel, Chap. 2:1, 'And he said unto me, 'Son of man, stand upon thy feet, and I will speak unto thee.' Here comes to us that a Divine Mission is going into the interpretation of the Plane (WHEEL). Ezekiel said, 'He said unto me, Son of man…' This refers to a prophet that God speaks to. It seems as though God and the Prophet of God are both in THE WHEEL talking it over. And God advises the Son of man (Prophet Ezekiel) to 'stand upon his feet' for in the verse above (Ezekiel, Chap. 1:28) Ezekiel said that he had 'fallen upon his face.' The spirit of God entered into Ezekiel and set him on his feet (Ezekiel, Chap. 2:2). This is the mission of the Prophet of God. And the God must make the Prophet who He has now missioned aware of the protection against the enemy and the warring work that will be carried out by THE WHEEL. Ezekiel Chap. 2:3 says that Ezekiel is sent to 'the children of Israel, to a rebellious nation'. Ezekiel, Chap. 2:3 describes them to be 'impudent and stiff-headed.' This verse is referring to the Black People in America! But, the Black people in America must be warned whether they will hear or not. 'They are a rebellious people' called 'a house', which means a nation (Ezekiel, Chap. 2:5). They must be warned regardless to what type of people they may be. They must know the truth, yet shall know that there has been a prophet among them… They, the Black people in America, must be warned as all of the people of God were warned the same. They are terrible people. They are dangerous people, as the prophet is warned, (Ezekiel, Chap. 2:6)—the Son of Man is told—"'…be not afraid of them, neither be afraid of their words...' They speak stout words, disgraceful words, against the truth and the truth-bearer. …"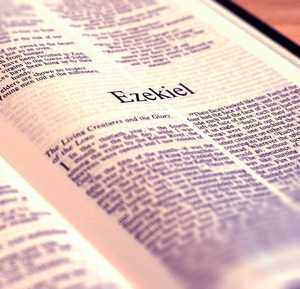 To give context, in
Ezekiel, Chapter 2, verses 6-10
of the
New
King James Version
, it reads:
"And you, son of man, do not be afraid of them nor be afraid of their words, though briers and thorns are with you and you dwell among scorpions; do not be afraid of their words or dismayed by their looks, though they are a rebellious house. You shall speak My words to them, whether they hear or whether they refuse, for they are rebellious. But you, son of man, hear what I say to you. Do not be rebellious like that rebellious house; open your mouth and eat what I give you. Now when I looked, there was a hand stretched out to me; and behold, a scroll of a book was in it. Then He spread it before me; and there was writing on the inside and on the outside, and written on it were lamentations and mourning and woe."
What is a "scorpion"? And what is the effect of its sting and venom? According to Wikipedia, all known scorpion species possess venom, and use it primarily to kill or paralyze their prey, so that it can be eaten. In general, it is fast-acting, allowing for effective prey capture. It is also used as a defense against predators. The venom is a mixture of compounds, neurotoxins, enzyme inhibitors, etc.; each not only causing a different effect, but possibly, also targeting a specific animal. Each compound is made and stored in a pair of glandular sacs, and is released in a quantity regulated by the scorpion itself.
This is a very deadly creature… And the state that we have been put in by our enemies has us being referred to by God as "scorpions"—and "the prophet of God," the Son of Man, is set down among scorpions.
*********
The Honorable Elijah Muhammad concludes his article with the scripture from Ezekiel, Chapter 3, highlighting "The Mission of God's Messenger": "The Messenger's mission here in Ezekiel, Chap. 2 and 3, is similar to the Mission given to the Messenger in the revelation of John which refers to the bitterness and the sweetness, the good and the bad, of his Mission. In Ezekiel, Chap. 3:5, God makes it clear to the Messenger '...thou are not sent to a people of a strange speech and of a hard language, but to the house of Israel (to your own people).' NOTE THAT IN THE DIVINE MISSION OF EZEKIEL, EZEKIEL IS REFERRED TO AS THE SON OF MAN."
In Ezekiel, Chapter 3, verses 1-11 of the King James Version, it reads: "Moreover he said unto me, 'Son of man, eat that thou findest; eat this roll, and go speak unto the house of Israel.' So I opened my mouth, and he caused me to eat that roll. And he said unto me, 'Son of man, cause thy belly to eat, and fill thy bowels with this roll that I give thee.' Then did I eat it; and it was in my mouth as honey for sweetness. And he said unto me, 'Son of man, go, get thee unto the house of Israel, and speak with my words unto them. For thou art not sent to a people of a strange speech and of an hard language, but to the house of Israel; Not to many people of a strange speech and of an hard language, whose words [you] canst not understand. Surely, had I sent thee to them, they would have hearkened unto thee. But the house of Israel will not hearken unto thee; for they will not hearken unto me: for all the house of Israel are impudent and hardhearted. Behold, I have made thy face strong against their faces, and thy forehead strong against their foreheads. As an adamant harder than flint have I made [your] forehead: fear them not, neither be dismayed at their looks, though they be a rebellious house.' Moreover he said unto me, 'Son of man, all my words that I shall speak unto [you] receive in [your] heart, and hear with [your] ears. And go, get thee to them of the captivity, unto the children of thy people, and speak unto them, and tell them, 'Thus saith the Lord God'; whether they will hear, or whether they will forbear.'"
Beloved brothers and sisters, can't you see that with the Backing and Help of Allah (God) and His Christ, or "Mahdi": I have no fear of you to tell the truth to the people of the planet Earth. As The God of Ezekiel, Moses, Jesus, Prophet Muhammad, I, too, am backed by the same God Who backed the Honorable Elijah Muhammad.
Guidance to President Barack Obama: How The Presence of The Wheel could help you and America avert Chastisement and Destruction
Why do we talk about "scientists"? Scientists are the highest manifestation of intelligence in any and every society. As we said in Part 56: They do not believe in the representation of religion as it is being represented; but they do believe in God, or "a higher power."
It's like
Michael Jordan
, the great basketball player: When
Larry Bird
, another basketball player, saw him play, he said, "I saw God in a basketball uniform." What was he saying? He was saying,
"I've seen somebody greater on the court than I, and I recognize his greatness, and I bow."
We are born to bow! Even an "atheist": You just don't recognize "God" in the unscientific way that religion represents Him; so you call religion "the opiate of the masses," but you know that this universe is an intelligent design from an Intelligent Designer.
Who is behind this Wheel? It is Allah (God) Who is introducing Himself to you, America. That He is present, now, and He comes to take over the rule of the planet and its people; and He is offering you a place, if you submit! But if you fight Him, then you cause Him to use the Awesome Power that He has to remove you totally, completely,irreversibly from the face of the Earth.
Rulers of America: It's your choice. I say this as The Servant of The Great Mahdi and The Great Messiah that is representing this to you.
President Barack Obama: Call the scientists! Open up "Area 51" to the scientists of the world! Because you, America, are the leader that Allah (God) has raised; and made you powerful, that He might make Himself known through you! And if America calls the scientists of the Earth to such place, they will respond.
What will be the reason for the call? The reason is to show them a sign of The Presence of God; to right the wrongs of the Earth, and to heal it. If President Obama even attempts to do this,The Shadow Government will be in trouble; because they, too, will be forced to have to bow to this! The scientists all over the Earth will know, especially through the clarity of our voice and what they see, that "God is Present"—and that we, whom they have destroyed, would not have this knowledge if it did not come from The Highest of Sources!
We believe our words that we have shared on The Presence of The Wheel could help the president and America to avert Allah's Warning of chastisement and destruction if America does not bow down. I have been given authority to teach this—and you who have experienced The Wheels are my witnesses! So come on out from your hiding places, and stand up for the good of America, because you may expose a Shadow Government that can cause America to be destroyed. If you stand up and tell the world unashamedly what you have seen, then maybe we can turn this "negative" into "the positive" that God intended for you.
But! When Allah (God) holds back His Power from you, His Power to destroy you: He haspurposely kept it back, and is only gradually releasing some of The Forces of Nature; to let you know that the inordinate weather that you are experiencing is because He is Present! He is trying to make you to see that you don't have any "power" to stop what He has The Power to bring.
*********
In an article titled "New Obama Advisor John Podesta An Advocate For UFO Disclosure," posted on December 11, 2013 in The Huffington Post, it reads: "For all of you who hope the U.S. government will lift the veil on its alleged stockpile of evidence that Earth is being visited by extraterrestrials—take heart. This week, former Clinton chief of staff and UFO advocate John Podesta was named as President Obama's newest advisor. Podesta, 64, has more than once publicly urged the U.S. government to release any UFO files that could help scientists determine 'the real nature of this phenomenon.' …"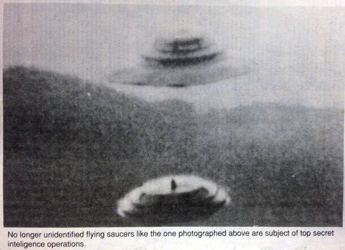 President Obama,
open up Roswell/"Area 51" and summon the scientists from all over the world, since you have
John Podesta
by your side, and you have the friendship of
Bill and Hillary Clinton
who were taught of these UFOs by
Laurance Rockefeller
: Since you have an army of those inside America, and outside, that have seen these things—and will
join with you
if there's great opposition against you from "The Satanic Mind."
And what is "The Satanic Mind"? Jesus learned that he was "2,000 years too soon" to end the civilization of the false Jews… Well, if he was 2,000 years "too soon," and we are on time, then who are we?
We are the heralds of Him Who has come to end The Rule of Satan. We don't have the power to do such, but we are backed by that Power! So we are "heralds," coming into the city; letting you know The Good News that God has come and "The Chariot" to deliver us from our oppressors is above our heads!
'The Day The Earth Stood Still' (1951): A fictional portrayal of The Reality we all face
Dear Brother President Barack: I want to raise a question as to "Why Allah (God) allowed you, a Black man, to be the first Black president of a house where the people of your father were sold into bondage?" Could it be that because there's a hunger and a thirst in you to save America from her destructive fall, that Allah allowed you to become its president—even though those who helped to put you in office had a different idea and plan for you; a different vision for you?
But Allah (God) has allowed you to be where you are, that you may possibly become an instrument to save America. Even though they may be, at this moment, planning to harm you; yet, God may have placed you in that position; that your heart's desire to save America and the American people from utter destruction from those who refuse to recognize The Power that is above our heads…
And maybe, Allah (God) wants you to open up Roswell, "Area 51"; maybe God wants you to use the power of your office to invite to America scientists from all over the world—just as it was in the movie The Day The Earth Stood Still, released the 28th of September, 1951. In that movie, all the scientists came together; and the man from "The Wheel" said to them he came "to offer them good." Pay attention to the following words that "the man from The Wheel," named "Klaatu," said to the scientist.
And remember: it wasn't a "big-headed, olive-eyed stranger from another planet," it was a human being, because on all of those Wheels are Angels, Scientists and Crew that are human beings!
"Klaatu" said, quote: "We've come to visit you in peace—and with good will." And since 1929, The Wheel has been above your head, and has not initiated any aggressive action against anyone. The only ones that were harmed were those that tried to harm The Wheels and its Occupants.
[In the scene towards the end of the movie, which is described by one review as "Klaatu gives the climactic statement of his mission"], "Klaatu" states, quote: "I am leaving soon, and you will forgive me if I speak bluntly. The universe grows smaller every day, and the threat of aggression by any group, anywhere, can no longer be tolerated. There must be security for all or no one is secure. Now, this does not mean giving up any freedom except the freedom to actirresponsibly"—and by "irresponsibly," we mean wickedly. "Your ancestors knew this when they made laws to govern themselves and hired policemen to enforce them. We of the other planets have long accepted this principle. We have an organization for the mutual protection of all planets and for the complete elimination of aggression. The test of any such higher authority is, of course, the police force that supports it. For our policemen, we created a race of robots"—these Wheels—"Their function is to patrol the planets—in space ships like this one—and preserve the peace. In matters of aggression, we have given them absolute power over us; this power cannot be revoked. At the first sign of violence, they act automatically against the aggressor.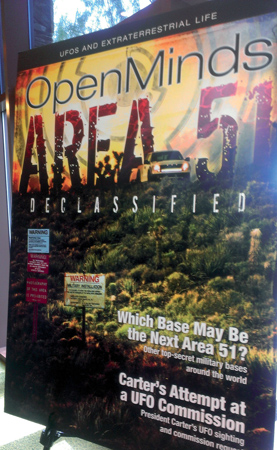 The penalty for provoking their action is too terrible to risk. The result is we live in peace, without arms or armies, secure in the knowledge that we are free from aggression and war—free to pursue more profitable enterprises. Now, we do not pretend to have achieved perfection, but we do have a system, and it works. I came here to give you these facts. It is no concern of ours how you run your own planet. But if you threaten to extend your violence, this Earth of [ours]"—notice the change in language, from "yours" to "ours"—"will be reduced to a burned-out cinder. Your choice is simple: Join us and live in peace, or pursue your present course and face obliteration. We shall be waiting for your answer; the decision rests with you."
*********
Your choice is simple: Join us, The Nation of Islam, and live in peace; or pursue your present course, and face obliteration. We shall be waiting for your answer—"The Decision" rests with you. This was a movie, but the writers of this script understood The Reality of what these Wheels represent!
I made changes in what "Klaatu" said; that fictional person from "The Wheel." But I am not "fiction"—I am real. And I am from that Wheel, and They Who are on that Wheel are my Guides and my Support!
Remember, dear beloved people, I have set before you "Two Signs":
One of "Life and Blessing," and
One of "Death and Cursing."
And I, with The Backing of The Two Who are Backing me, urge you to accept Life, that you and your seed may live in a better world, under Perfect Guidance, that will cause us to make this planet anew.
I am "a trumpet of God"… And it is wise that you listen to this "trumpet," because there's another "Trumpet" coming behind me—and The Blast of that Trumpet means "Death."
'The Great Announcement' (1989) is The Final Call: A Warning Just as relevant for President Obama and current U.S. government
My dear brother, President Obama: You can, from your high office, help America to save herself, and the American people, from The Wrath of God. The Two that back me can put a ring of firearound that "Shadow Government," and a ring of fire of protection for you against their plans to assassinate you!
And I would advise you, America: Do not harm President Barack Obama, because he may be "the door" that gives life to you and your children. As I said to you from my October 24, 1989 Press Conference ("The Great Announcement: A Final Warning To The U.S. Government") about my Experience on The Wheel (at the beginning of this latest series of messages on "The Wheel" inEdition 51 of "The Time and What Must Be Done"), I closed that press conference with these words: "…I would like to issue a warning to the president"—to the governments, and to the people of the United States of America. "If I am, in your mind, before you of myself; if I am in your mind a hater, an anti-Semite, a wild-eyed radical, then you have nothing to fear from my presence, for I, like those who are actually like that, will go the way that history has decreed for that kind of person. However, if I am, in reality, in front of you by Allah's Divine Will, as an extension of The Divine Warnings given to you from the Honorable Elijah Muhammad, then be instructed that you would do well to leave me alone. You would do well to leave The Nation of Islam alone; and to cease and desist from your evil planning against the future of the Black people of America and the world. For the Black people of America, though despised and rejected, have now become the people of God—and He has declared that He will fight you for [our] liberation. The government would be wise to heed the counsel of Gamaliel, in the days of Paul and the early Christians, who advised the rulers of that day with these words: 'And so in the present case, I say to you, stay away from these men and let them alone, for if this plan or action should be of men, it will be overthrown; But if it is of God, you will not be able to overthrow it, [nor] them; or else you may even be found fighting against God.' So it is not wise for you to plan against Allah's servants; for by so doing, America, you are planning against yourselves. …"
This Warning was for the president of that time—and even for our Brother President today! It's for the government; it's for—"…the Chiefs of Staff and the wise to reflect upon, so that the unwary citizens of America may not be harmed by the consequences of the wicked machinations of"—The Synagogue of Satan, that guides many members of—"the United States Government."
I continued by stating: "[Now,] you may come against me, which you are free to do, since we have no power to stop you. But! I warn you: That I am backed by The Power of Allah and His Christ…and The Power of that Wheel in which I received"—"The Announcement" that I gave, years ago, and "The Announcement" and Teaching that I'm giving today!—"And the moment you attempt to lay your hands on me"—which you already plan to do—"the fullness of Allah's Wrath will descend upon you and upon America. And before you will be able to establish your mockery of me, if that is what you wish to do"—for what the Honorable Elijah Muhammad revealed to me on The Wheel—"you will [begin to] see these Wheels"—more of them!—"or what you call 'UFOs', in abundance over the major cities of America! And, the calamities that America is presently experiencing will increase in number and in intensity, that you might humble yourselves to the Warning contained in th[e] Announcement"—that I made in 1989, and to The Teachings that I'm giving you about this Wheel, today—"or, [you will] be totally destroyed from the face of the Earth."
I closed with these words: "This is a final warning to you."—and, a "Final Call." "The ball is now in your court, [and] you may do with it, with me, and with us as you see fit. …"
'The Seal of The Prophets': An authentic individual prefigured; 'sealed' with The Wisdom of God
All the things that happened in the past in The Life of The Prophets are now being fulfilled. All of the Books (of scripture)—Torah, Gospel and Qur'an—are now being sealed. What is a "seal"? The definition of a seal is it is "a tight, or perfect closure"; "a tight closure that prevents the entrance or escape of." What a definition…
"The Seal of The Prophets": What makes it so tight, that nothing can come in or escape fromThe Seal? [Note: In the Maulana Muhammad Ali translation of the Holy Qur'an, in Surah 33 Al-Ahzah ("The Allies"), verse 40, it reads: "Muhammad is not the father of any of your men, but he is the Messenger of Allah and the Seal of the prophets. And Allah is ever Knower of all things."]
In the Book of Daniel, Chapter 12, verse 4 of the King James Version it reads: "But thou, O Daniel, shut up the words, and seal the book, even to the time of the end: many shall run to and fro, and knowledge shall be increased." Then go to Revelations 5:1, where it reads in the New International Version: "Then I saw in the right hand of him who sat on the throne a scroll with writing on both sides and sealed with seven seals"; and then Revelation 10:4, which reads: "And when the seven thunders spoke, I was about to write; but I heard a voice from heaven say, 'Sealup what the seven thunders have said and do not write it down.'"
When you "seal something," you close it—that nothing else can enter what has been sealed. When you call a man "The Seal of The Prophets": Then he fulfills everything that the prophets spoke concerning him; that would make them liars if their word was not fulfilled! And in fulfilling their words, you have then "sealed it," and you have "sealed them" (the prophets), and you have verified them as sincere, authentic "Prophets of God"; because if that "Last One" does not come—and do The Work that is prophesied that he would do—all the other prophets could be considered "liars" because their word was not fulfilled.
This "Seal of The prophets" makes it impossible for anyone to escape The Reality of The Seal, because "The Seal" fulfills and in fulfilling the words that were spoken of him, by those who came before him, this "closes the door" on "prophethood." There is no need for a "prophet" anymore once "The Seal" has been placed there by God Himself. "The Question" is: "Was all that the prophets predicted fulfilled in Jesus of 2,000 years ago, or Muhammad of 1,400 years ago?" You have to answer that as a "religious scholar."
If what the prophets predicted of "end times" did not happen on the watch of Jesus of 2,000 years ago, nor the watch of Prophet Muhammad of Arabia 1,400 years ago, then Jesus and Muhammadprefigured a Future Time and a Future Man Who would "Seal Up The Book." None of "The Plagues" that were seen in the time of prophets took place during the time of Prophet Muhammad ibn Abdullah (peace be upon him); and none of "The Plagues" that hit Pharaoh and others took place during the time of Jesus the prophet! So Jesus was "2,000 years too soon" to bring about his desire to end the civilization of the wicked—and Muhammad was "1,400 years too soon" to do the same.
"The Seal of The Prophets" means it is an individual that is "sealed with The Wisdom of God" that lets the world know that he is authentic. So they, Jesus and Muhammad, prefigured The Coming of "The Great Mahdi" and "The Great Messiah": Master Fard Muhammad and The Honorable Elijah Muhammad—who was given The Knowledge that Seals The Books; The Scriptures!
I represent those Two Men! And They are The Two that back me: The Great Mahdi, Master Fard Muhammad, and His Great Messiah, the Honorable Elijah Muhammad.
I am not before you "of myself"; I am a Warner to you from The Great Mahdi and The Great Messiah! My Duty is "a Clear Delivery of The Message from Allah and His Christ." I have set before you "Two Signs": One of "Life and Blessing," "One of Death and Cursing." Please choose Life, that you and your offspring may live.
"By the time! —
Surely man is in loss,
Except those who believe and do good, and enjoin one another to Truth, and enjoin one another to patience."
—The Holy Qur'an, Surah 103 Al-Asr ("The Time")
You have been taught 'The Time' —now decide 'What Must Be Done' with this Knowledge
This Broadcast ends this talk on "The Wheel"—and this Broadcast also ends the 58 weeksthat we promised at the beginning of last year.
Those of you may take from Broadcast Lecture 1 to Broadcast Lecture 58, and parse them! And we will have scholars to review each of these broadcasts, and talk to you about each Lecture—and you will be able to call in by phone and ask your questions; and you will be able to engage our scholars and others!
I ask you: What will you do with the 58 weeks of these broadcast lectures?
Will you let them sit in The Final Call Building gathering dust, while people are hungering and thirsting for knowledge while they die because we failed to deliver the message?
What kind of "ministers" are you, if you don't rise up on the wings of this Knowledge and spread it to the ends of the Earth? As Jesus told his Disciples: "Take this Gospel to every nation, kindred and tongue."
What kind of people are you that sit by the television, and have been fed from us for this year and a few weeks—and you won't share it with your friends and your family? This should be "The Discussion" in schools and organizations; in churches in mosques and synagogues and temples!
May Allah Bless us to rise up with strength, and spread this Word, that our punishment may not be that "we knew" and failed to teach others. Remember! In our Lessons (Lost-Found Muslim Lesson No. 2, Question Nos. 18-19 ask): "What Is The Duty Of The Civilized [Man]?" "And If The Civilized [Man] Fails To Perform His Duty, What Must Be Done?"
In these Broadcasts, I have relieved myself of the burden of your lives by delivering The Message in as clear a manner as I could; so I now leave it in The Hands of Allah (God). Whether you will hear, or forebear, it is entirely up to you. May Allah Bless you.
*********
I thank my Research Team which [has] done a marvelous job in helping me to prepare these Broadcast Lectures for you. I thank The Final Call Staff with their cameras and sound people and technicians; reporters, transcribers and writers who helped put these broadcasts in writing in The Final Call newspaper. I thank my beautiful Twitter and Facebook "Army" for all your wonderful work in causing us to trend over 30 times in the 58 weeks of this broadcast. Lastly, I wish to thankour faithful listening audience; who have followed us from "Day 1."
And I thank my critics—and even the haters—for their e-mails and "tweets"! All of you helped to make this Series what I hope it shall be: A Guide for us to save ourselves.
'Do you then dispute with him as to what he saw?': Warning To The Hypocrites
Now, to each of you who worry about me for revealing these Truths, knowing that I, and we, are putting our lives on the line, I say to you: When I came to follow the Honorable Elijah Muhammad, I came to him to give my life for this Truth that will free you, and free humanity, from the blinding touch of Satan. So fear not for me.
I don't believe that Allah will permit my enemies to kill me; though, they may soon put their hands on me, as they did Jesus. But, I will be saved… And so will you.
And to those of you who say, "Farrakhan has deviated. He does not really represent Elijah Muhammad. Elijah Muhammad never said he was 'The Christ'—this is something that Farrakhan has made up!"—say what you will! But Elijah Muhammad told me, when I created a uniform with The Crescent and Star on either side of the jugular vein, and showed it to him, he said, quote: "Take The Crescent out of that design, because The Crescent stands for 'Equality'—and you have no equal. Have a Star coming out of The Sun… ."
So those of you who will say that I have "deviated," that I am not whom I'm saying to you that I Am: Go and read the 53rd Surah of the Holy Qur'an called Al-Najm ("The Star")! In verses 1-18, it reads: "Bismillah ar-Rahman ar-Rahim (In the name of Allah, the Beneficent, the Merciful). By the star when it sets! Your companion errs not, nor does he deviate. Nor does he speak out of desire. It is naught but revelation that is revealed—One Mighty in Power has taught him, The Lord of Strength. So he attained to perfection, And he is in the highest part of the horizon. Then he drew near, drew nearer yet, So he was the measure of two bows or closer still. So He revealed to His servant what He revealed. [And] The heart was not untrue in seeing what he saw. Do you then dispute with him as to what he saw? And certainly he saw Him in another descent, At the farthest lote-tree. Near it is the Garden of Abode. When that which covers covered the lote-tree; The eye turned not aside, nor did it exceed the limit. Certainly he saw of the greatest signs of his Lord. …"—and I tell you I saw one of The Greatest Signs of Almighty God Allah when He lifted me to The Wheel, and gave me Instructions for you.
The Honorable Elijah Muhammad told me what he told me, and showed me what he showed me… And told me that I have "one more thing to do," and I "can return again to The Wheel"—and He will permit me to see him face-to-face. That is his promise to me. And verily, he never breaks his promise.
*********
So you, my enemies, and Hypocrites, remember in 1935: When Master Fard Muhammad left in 1934, the Honorable Elijah Muhammad began to teach The Followers "Who" that Great Man was that visited among us for three years and four months. And guess what? The Hypocrites among The Followers then purposed to kill the Honorable Elijah Muhammad, saying, "He made that up: He said of Master Fard Muhammad what He didn't say of Himself! He's trying to make himself something 'bigger' than who he really is"—so they set about planning to kill him.
Well here you are, my Hypocrites and my Enemies: You're on the same course as they! For you are saying the Honorable Elijah Muhammad never said that he was "The Christ." Go back toThe Theology of Time Lecture Series; he said, "I am the Jesus of the Bible. And the Muhammad of The Holy Qur'an…"; and in a December 1, 1973 "Table Talk" recording, titled "I Am The Christ!" [ref. TableTalks.org], the Honorable Elijah Muhammad said: "Yes,"—he was talking to me and others—"I am The Christ. And we are the real 'Christians'."
You can take it, or let it alone. Do what you will… But I warn you: What you plan for me is already at your door.
'Mark your gatepost (door) with The Blood of The Lamb': How to avoid that Death Angel now inside of America
Remember those who wanted "The Death Angel" to pass over their houses (Exodus 12): What did they have to do? They had to make a mark of an "X" on the gatepost of their door, with the blood of a lamb. Well, there's no need for you to go out "killing lambs." Just remember that: 1.)"The Lamb of God" is Jesus himself; and 2.) "The Blood of The Lamb" is The Life that [Jesus] lived, as he walked among us and taught among us! Live that Life, and you will be placing "a sign" on "your door"—that The Death Angel that is now inside America may pass over you.
*********
Thank you for reading these words. May Allah Bless you with The Light of Understanding… And, I hope to see you: Be my guests at Saviours' Day in Detroit on February 21st-23rd, where our theme for The Conference, and our subject on that Sunday, will ask The Question: "How Strong is The Foundation; Can We Survive?"
I greet you in peace: As-Salaam Alaikum.